Members of The Outside Capering Crew were awarded first and third place in the 2019 double jig competition at Sidmouth Folk Week, England's premier folk festival.
It was a first outright win for our youngest dancer, 21-year-old Molly Pipe, performing The Flowing Dance with her father Simon and musician Mark Rogers. Simon wrote the jig in the year Molly was born – and she told him how to dance it!
Emma Wooders and Tracy Seelig didn't mind letting them have the top slot: they've each been outright solo or doubles winners on three occasions.
And musician Mark would have been happy either way: he played for both entries, performing Crew partner Lawrence Wright's version of Highland Mary for the winning dance. The music judge commented: "What a gorgeous tune. Once again, very masterfully done. It made my heart sing."
Mark scored maximum marks for both jigs.
Click on any of the thumbnails to see Ben Potton's pictures from the 2019 competition:
Crew dancers have now been winners in the solo and double-jig category 12 times in all, reflecting our commitment to high technical standards as well as entertaining dancing.
In 2017, Crew dancer Molly Pipe won the Future of Young Folk award at Bromyard Folk Festival for her unaccompanied, traditional-style folk singing. Her prize included bookings to sing at Warwick and Bromyard folk festivals in 2018.
Lawrence Wright won Sidmouth festival's melodeon competition in 2000. Sadly, this no longer takes place.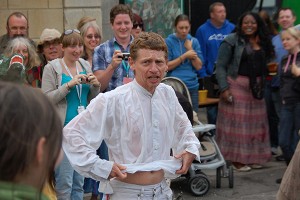 In 2010 we also won the slightly less serious Stick and Bucket competition at Chippenham Folk Festival, an annual event inspired by a dance in one of Terry Pratchett's Discworld stories. We remember nothing about the dance, except that it involved tipping buckets of water over Simon.
In 2017 we also won the competition (there was no actual prize) for collecting the most money at Ely Folk Festival, thanks to the efforts of Emma Wooders and possibly our ability to entertain and impress. Other festival organisers might like to bear this in mind…
Our full list of prizes in the John Gasson Memorial Jig Competition at Sidmouth:
Solo winners: 1997, 1999, 2001, 2003, 2011, 2012
Double jig winners: 2002, 2008, 2019
Audience prize: 2007, 2008
Over 40s prize: 2005, 2007, 2012, 2019
Best new entrant: 2013 (Molly Pipe, 2nd overall)
Individual Crew dancers have also won the solo jig competition as members of other teams, in 1992, 1995, 1996 and 2007. Simon Pipe has won the solo prize a record five times.
Read about the jig competition here.
Watch some of our winning jigs: