All currently active members of The Outside Capering Crew have been winners – as dancers or musicians – in the The John Gasson Memorial Jig Competition at Sidmouth Folk Week, England's premier folk festival. Scroll down for video links.
In 2017, the Crew's newest dancer, Molly Pipe, won the Future of Young Folk award at Bromyard Folk Festival for her unaccompanied, traditional-style folk singing. Her prize included bookings to sing at Warwick and Bromyard folk festivals in 2018.
Lawrence Wright won Sidmouth festival's melodeon competition in 2000. Sadly, this no longer takes place.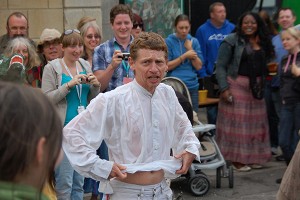 In 2010 we also won the slightly less serious Stick and Bucket competition at Chippenham Folk Festival, an annual event inspired by a dance in one of Terry Pratchett's Discworld stories. We remember nothing about the dance, except that it involved tipping buckets of water over Simon Pipe.
In 2017 we also won the competition (there was no actual prize) for collecting the most money at Ely Folk Festival, thanks to the efforts of Emma Wooders and possibly our ability to entertain and impress. Other festival organisers might like to bear this in mind…
Our full list of jig competition prizes:
Solo winners: 1997, 1999, 2001, 2003, 2011, 2012
Double jig winners: 2002, 2008
Audience prize: 2007, 2008
Over 40s prize: 2005, 2007, 2012
Individual Crew dancers have also won the solo jig competition as members of other teams, in 1995, 1996 and 2007.
Read about the jig competition here.
Watch Emma and Simon's winning jigs: